Summary. At a time when corporations are increasingly embracing Internet pop culture and humour to stand out in a crowded online landscape, I take a deep dive and glean from them their missteps and successes on how to properly maintain relevance and engagement.
If you're an avid online netizen, you would have come across the plethora of memes, wisecracking tweets, TikToks and other forms of trendy online content that brands have leveraged to captivate audience interest. Gone are where corporations felt like distant, non-sentient entities. From Wendy's iconic snark, to McDonald's fandom behaviour, and many more examples, the landscape of social media today is a vibrant congregation of the hippest, most conversable digital personas.
Questions arise: what exactly is it that drives us to take a liking to such content? And is it always set to succeed? In this article, I look at what differentiates the success stories from the cautionary tales when it comes to breaking out of the traditional marketing mould. If you've ever felt the desire to join the ranks of the cool kids at the party, get ready for an enlightening journey ahead.
Unveiling The Allure Of Brand Swagger
Greg Baroth, digital brand strategist who's worked with the likes of social media personalities like Verne Troyer and Logan Paul, puts forward a hypothesis regarding our attraction to brands that act casually online. In his interview with The Ringer, he muses on how different the digital landscape of today is compared to the past: "I think when most people think of brands, they think they're very calculated and have this heavy approval process." He suggests that our familiarity with conventional corporate language has conditioned us to perceive any deviation as "quirky" or "refreshing". He explains, "when brands started being more off the cuff, like [Wendy's] going off on someone, as if they were a person, that really shocked people. We weren't used to that, and they created a trend." The use of first-person and direct address, though prevalent in all forms of marketing, produces a specific effect resembling the casual conversation from one human consciousness to another when coupled with tactics like sentient language and relatable humour (covered more in depth here). Greg notes an almost parasocial, pseudo-relationship that brands are able to build with their customers by coming across as more personal:
Whatever the reason, there is undoubtedly a science behind unconventional marketing tactics, given their phenomenal success. Joey Piazza, the director of marketing at Quaker Maid Meats, recounted his executives' hesitation when he first pitched for the social media persona of Steak-umm (a brand of thin-sliced frozen steaks) "as a strange, beleaguered millennial". Now, barely over a year, the brand has "upped its sales by about 15 percent, is slowly expanding its markets from outside the Pennsylvania area, and has a group of international fans who clamour for new Steak-umm merchandise." In the end, it turns out that Steak-umm's marketing strategy was a rare medium well done.
Should all businesses jump on board with the current trends? Not quite.
The first would be being aware of one's brand personality. In a 2017 study of 1,000 American social media users, the social media software company, Sprout Social, writes:
In the same study, 40 percent of consumers cited not wanting to see personality from government agencies on social media, and 33 percent said they could care less for whatever traits institutions related to banking and finance demonstrated. The media industry, unsurprisingly, tops the list where consumers want to be entertained. Other industries from which consumers were eager to see personality include: Consumer Goods (51.4 percent), Travel and Hospitality (50.8 percent) and the Automotive industry (48.6 percent).
In short, tone must align with the nature of the business. For instance, there are many different types of humour beyond that of the current cultural zeitgeist. A company should then explore the most appropriate type, and if there's nothing appropriate, don't force it. Writing on the issue of humorous PR apologies, blog writer Josh Bernoff notes the issue of tone disparity when serious companies "suddenly joke around":
A company must also look externally to its audience for clues on what content would work well. For example, not every type of current affairs that a brand taps into is welcomed. Politics is a hit-or-miss with various audiences. But other types of commentary are more innocuous, such as for pop culture events: "Brands like DiGiorno's Pizza and Taco Bell have found audiences for irreverent cultural commentary on everything from live televised musicals to Mean Girls." Given that pop culture references are often the encapsulation of a specific era, one can also deduce how age plays a factor in how content is received. Millennials "are 25 percent more forgiving of brands who use slang than their older counterparts", and "find making fun of competitors to be cool at a rate 20 percent higher than other generations".
Lastly, despite what has been said about how people appreciate a switch-up in tone, a company's sudden sentience and attempts at human-like interaction can be disorienting for a generation that grew up with distinct boundaries between brands and their consumers. This experience is akin to a "tonal uncanny valley". When Netflix began "tweeting exuberantly about content available only on Hulu, HBO Max, and Amazon Prime", Twitter followers "expressed confusion as to why a publicly traded corporation would promote the content of one of its main competitors". A commentator said: "It's getting weird, folks".
Bottom line? As with all things in life, like jeans, fad diets, and questionable haircuts, no marketing strategy is one-size-fits-all.
In December 2018, the New York Times tweeted about Facebook's granting of access to users' private inboxes. Netflix responded by adopting the royal "we" in a contradictory move, albeit with a playful tone. Their tweet read, "Netflix never asked for, or accessed, anyone's private messages. We're not the type to slide into your DMs." The response backfired — Netflix was instantly criticised for being dismissive towards user privacy, especially when it was later revealed that their claims may have been false.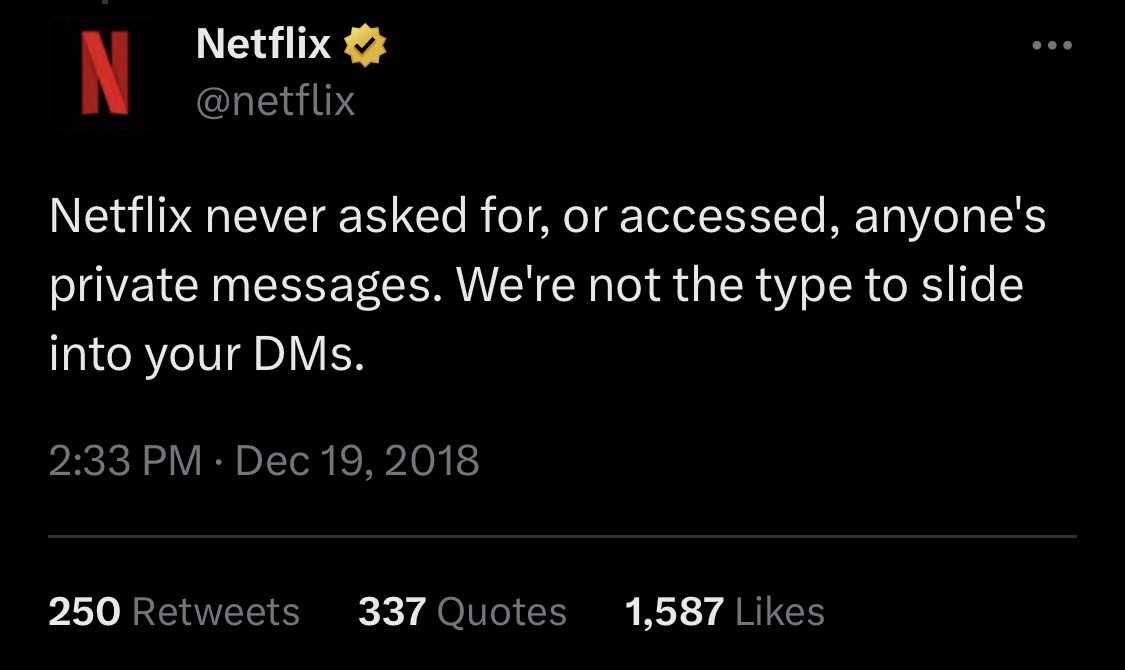 In another case, cosmetics company Tarte came under scrutiny early this year when a media trip inviting a group of creators to Dubai received criticism online "for being a "tone-deaf" display of luxury during a challenging time economically", and for its alleged discriminatory treatment of POC creators.
In Tarte's Tiktok response to the backlash, a Tarte employee can be seen dressed as a mascot character of one of its most famous makeup products, the Shape Tape concealer. Shape Tape, iced coffee-in-hand, scrolls through a deserted office hallway, before entering an empty room. At the sight of the emptiness, it raises its hand questioningly, before finally giving in with a resigned slump. The punchy caption read:
"POV: you show up for work but the marketing team spent all of our money on a brand trip".
As at the time of writing, the video had 828.7K likes, 7,258 comments, and 10.9K saves. Top comments include quips like, "Tarte understood the assignment", and "Well played, Tarte". A Reddit headline reads: "Tarte out here being self aware [sic], it's actually kinda hilarious" — reflecting the general feeling of the masses not having forgiven the brand, but at least appreciating its acknowledgement of the situation.

Others, however, criticised Tarte's deflection of the situation. In one particular rant, a Reddit user pointed out the trivialising of a bad mistake and voiced her frustration with the heavy cultivation of Internet personalities by brands to form parasocial bonds in a bid to escape real accountability with their audience.
In Bernoff's blog, he notes the unprofessionalism of making jokes to angry customers. Examples such as a telecommunications company going offline for a day, or an airline company having delayed flights, or a data breach by a firm, create serious violations of trusts or disruptions in people's everyday routines. HBO Max may have gotten away with its tiny mistake, but more acute situations don't warrant a simple dismissal using humour. The rules of the game, as he puts it: 1) if a mistake "generated angry customers, don't make it into a joke", and 2) humour should be self-deprecating, and never at any other party's expense.
Tailoring Brand Identity for "Custom-ers"
There are, of course, far more instances of when companies have capitalised on Internet culture. The landscape of digital engagement is vast and uncharted. While brands like Wendy's and Steak-umm have successfully embraced a more offbeat and humorous approach to content creation, a similar tack may not be suitable or well-received for other industries or types of businesses. Ultimately, brands must understand their unique personality, audience preferences, and industry dynamics to effectively engage with their target market. Strategy is always best tailored. Keep that in mind before going forth to conquer the online landscape.
May your memes be dank (that is, cool) and your tweets be witty.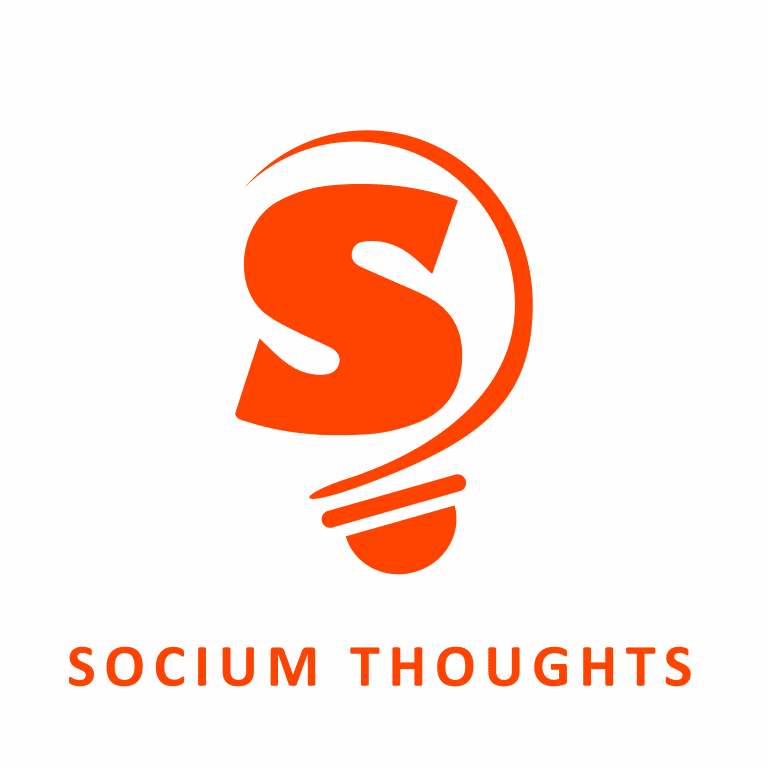 Because it's the thought that counts – Socium Thoughts bring together our thoughts and opinions on all things communication.