Summary. Roy Wang, Creative Director at FACTORY, shares about his journey in the field of art and design, and how he channels his imaginative energy into branding, fine arts, visual communications, and business communications.
Exposed to fine arts at the age of three, Roy Wang has been on this journey for more than three decades. In 2009, Roy founded FACTORY where he puts his creative energy into branding, fine arts, visual communications, and even business communications. Hailed by some as a 'graphic magician', Roy has produced numerous works across all mediums that challenge the distinctions between art and design, often blurring the lines between his creations to create unconventional yet expressive compositions. Apart from engendering emotions, Roy also believes that good art is capable of evoking experiences. Today, FACTORY stands as a multidisciplinary award-winning studio in Singapore and China.
What do you do at FACTORY?
I'm the Creative Director at FACTORY, a design studio founded in 2009. We started off as a branding agency but over the years, we've moved from branding to spatial design, product design, publication, digital, basically the whole spectrum of design besides architecture. I see our work at FACTORY as designing experiences for people. If a client approached us to design a teh peng (iced tea) for example, we would try to create a drinking experience by designing the café or the cup that the teh peng is drunk from.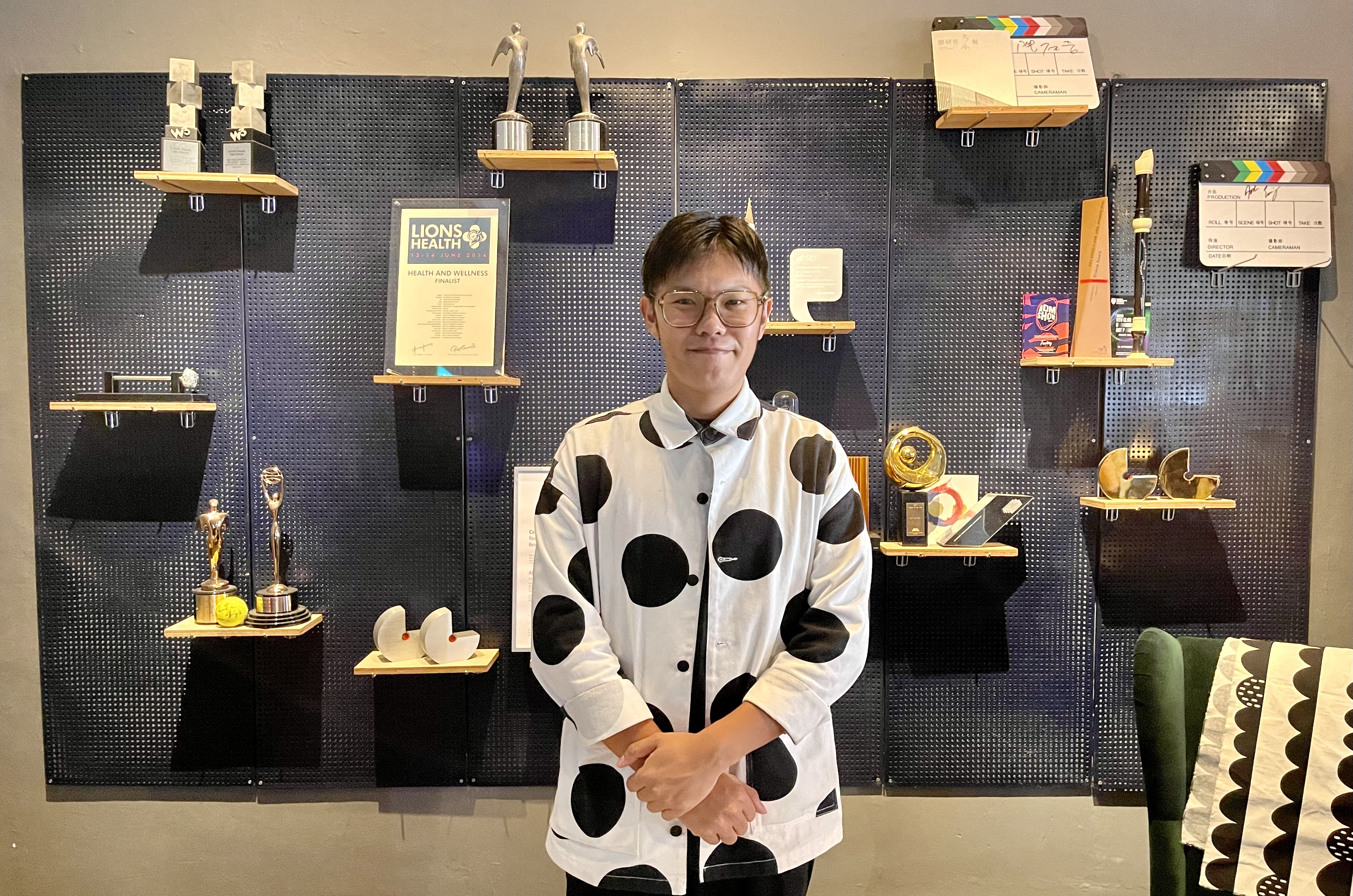 Where do you find inspiration for your work?
Before the pandemic, travelling and visiting museums were my main ways to find inspiration, but design is really all around us. For instance, even the toilet paper we use everyday is the product of someone's design. The key to finding inspiration is to employ cross-contextualisation, which means to take interesting aspects of something and apply it onto a product. If drinking teh peng gives you comfort, we conduct research on other objects that bring comfort, say a couch for example, and find out what makes them so comforting. Essentially, we cross-contextualise by applying existing ideas about what makes certain things work to the present project we're working on to give it new ideas and contexts.
What is one thing that helped you in your journey as an artist/designer?
I feel very fortunate being able to make a living doing something I love — that helps tremendously. While being in the industry for a long time can wear you out, the feeling that I get every time the studio creates something we never thought was possible — that keeps me going.
Each time you begin working on a new piece of work, is there a creative process that you go through or does inspiration come naturally to you?
We conduct plenty of research and engage in discussions, which are facilitated by the open culture in our studio. Our designers pool ideas first and make quick prototypes before deciding on possible directions to head towards.
Was there a time when you hit a cul-de-sac when designing? If there was, what did you do to get out of it?
Roadblocks are plentiful, and sometimes the best thing to do is to take a nap. I believe design is like baking — if you keep kneading the dough it breaks, so sometimes you need to let the idea rest first before getting back to it.
How do you keep up with the latest art and design trends to ensure that your work for clients remains relevant?
Our studio does not actively chase trends. Everyone comes together, bringing with them a variety of skill sets to create new experiences for our clients instead of chasing trends that will eventually pass.
What is the most memorable project that you have worked on so far?
Definitely the Venice Biennale in 2019. We were commissioned by the National Arts Council to design for the Venice Biennale, which is the longest running art exhibition in the world. It was one of our first major overseas projects. It was memorable not only because I got to fly to Venice, but also because we got to build and design most of the exhibition online via video calls, which was really fun!

Another memorable project was designing a very large-scale jewellery trade show in China. We got to design a maze of sorts where people who walked through could experience the four seasons through massive LED screens, and at the same time have a look at the jewellery showcased in glass panels. It was definitely a very unconventional one!
Have you ever exceeded the budget working on a project?
Of course! Sometimes, renegotiating the budget is required but most of the time, we try to find alternatives that are still able to convey an experience without short-changing our audience. One way we have worked around this was making the decision to fly over the materials we needed from China where manufacturing costs are lower.
As creative director at FACTORY, how would you describe your leadership style?
Instead of calling myself a leader per se, I would like to think of myself as someone who is able to provide a safe environment for the best designers to thrive in — that's all.
What is the working environment/corporate culture like at FACTORY?
At FACTORY, we have an open culture that encourages contribution from everyone.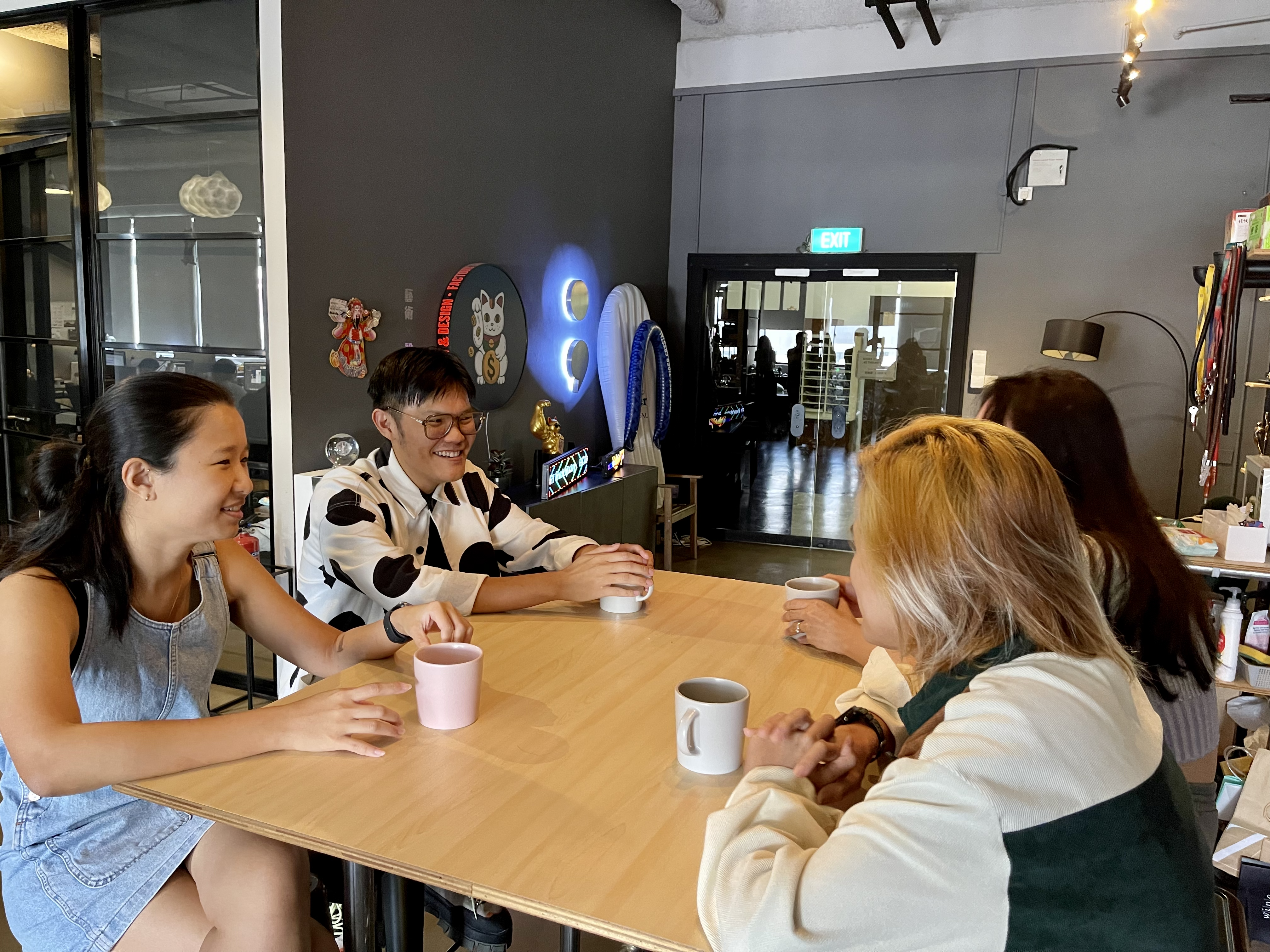 How is strategic communications important in the arts and design industry?
It's very important. I believe that visual communications only make up 50 percent of communications in the industry. The other 50 percent is made up of strategic communications — it's crucial not only to know what to convey but also who to convey it to.
Any tips or strategies on managing business communication?
Conduct plenty of research on competitors to find out the methods they use to communicate with their audience. If those methods are effective for them, it could be beneficial to apply it to your own company as well.
The toughest part of dealing with business communication (in the arts industry)?
It's easy to make the mistake of assuming that you're on the same page as your client and thus failing to provide them with sufficient context and background information. This is dangerous as it can cause misunderstandings and unhappiness in the long run. Therefore, it's very important to set the stage by presenting all the details upfront.
What is one of your favourite works or projects in the studio?
I have multiple favourites actually. The red and blue brick book (top) is titled For the House; Against the House 2022 Publication, and it was designed for the OH! Open House art exhibition in 2022. I thought that this project was especially meaningful because the red and blue bricks signify Singaporean's thoughts on whether they believe that 'life imitates art', or 'art imitates life'. Another one of my favourite work done for the OH! Open House would be the Days__ & Counting Press Kit (far right) featuring a TV remote control with a newspaper bulletin hidden within. The process of designing this unique press kit with a touch of the fun, and the unexpected, was one that I really enjoyed.

FACTORY also has a self-initiated #WriteaChristmasCard campaign that I am really proud of because it garnered quite a bit of popularity and is something that I personally hold dear to heart as I aim to bring back the joy of sharing and receiving handwritten cards or notes. The Polar Bear Box (bottom left), Santa Pinball (bottom middle) and the Musical Box (middle left) were all part of this initiative for the Christmas of 2019, 2021, and 2022 respectively.

In fact, we also have a self-initiated card project for Chinese New Year, where our studio designs cool festive cards based on the year's chinese zodiac. So for this year (2023), we designed this Rabbit Chinese New Year Card (middle) that was sent out to our friends and family.
What do you think is the importance of art in society?
Art puts forth fresh intellectual and emotional insights into people and society. It holds an intangible power that can make people think and feel differently. Even common forms of art like film or music are able to change people's mood and their perception of the world.
Looking back on how far you've come in your career, what is something you would want to say to your younger self?
A career in art & design will always be a love-hate relationship but I would say just pursue your passion!
Is there any artist or designer that you look to for inspiration?
I admire a lot of artists from the impressionist era and I was pretty inspired by their way of thinking. Impressionist artists were one of the first who incorporated the notion of Science into their work, and this actually changed the way painting is done now. It blew my mind because I realised that it doesn't matter which field you're in or whether you've reached the pinnacle, it will always be possible for people to come up with different and innovative ways to tell a story.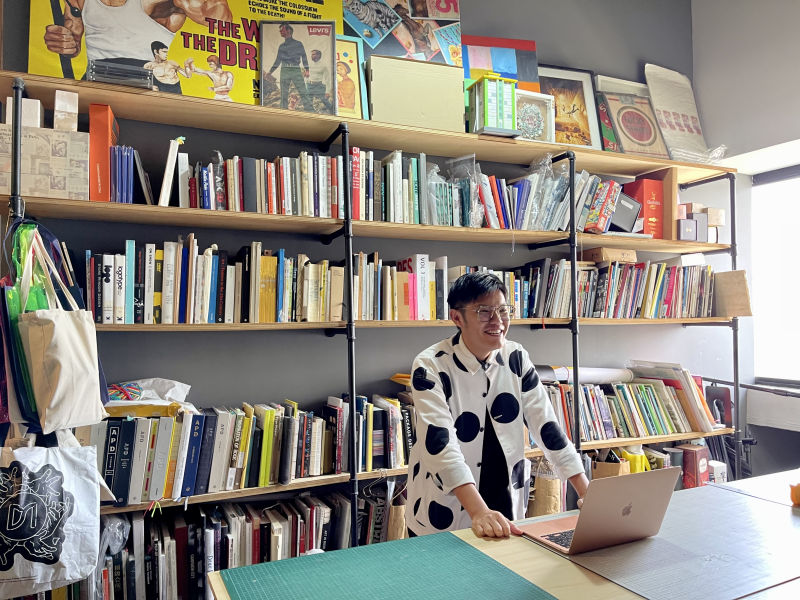 In your LinkedIn profile you have a quote that says: "As artists, we're not technicians but magicians". Could you share more about that?
A good artist is one who recognises the presence of boundaries that needs to be worked within but he/she is still capable of producing art that feels like those boundaries never existed at all. That to me is magical.
Three ways to describe yourself?
I am relentless, yet pessimistic, and laughing is my coping mechanism.
Any short or long term goals for the studio?
This is something that has always been in our bucket list and we are now finally venturing into product making. We are looking to launch FACTORY's very own toy collection. It is something that the team and I have been looking forward to and I think the studio has reached a stage where we are mature enough to come up with our own products and to collaborate with partners.
Ever wondered what you will be doing once you're done with FACTORY?
I would go back to being a fine artist because that was where I started from. It is like a natural progression such that I was first a fine artist and then I became a designer. From making art to going behind the scenes of supporting art, I think it is only natural that I come one full circle to go back to making art again.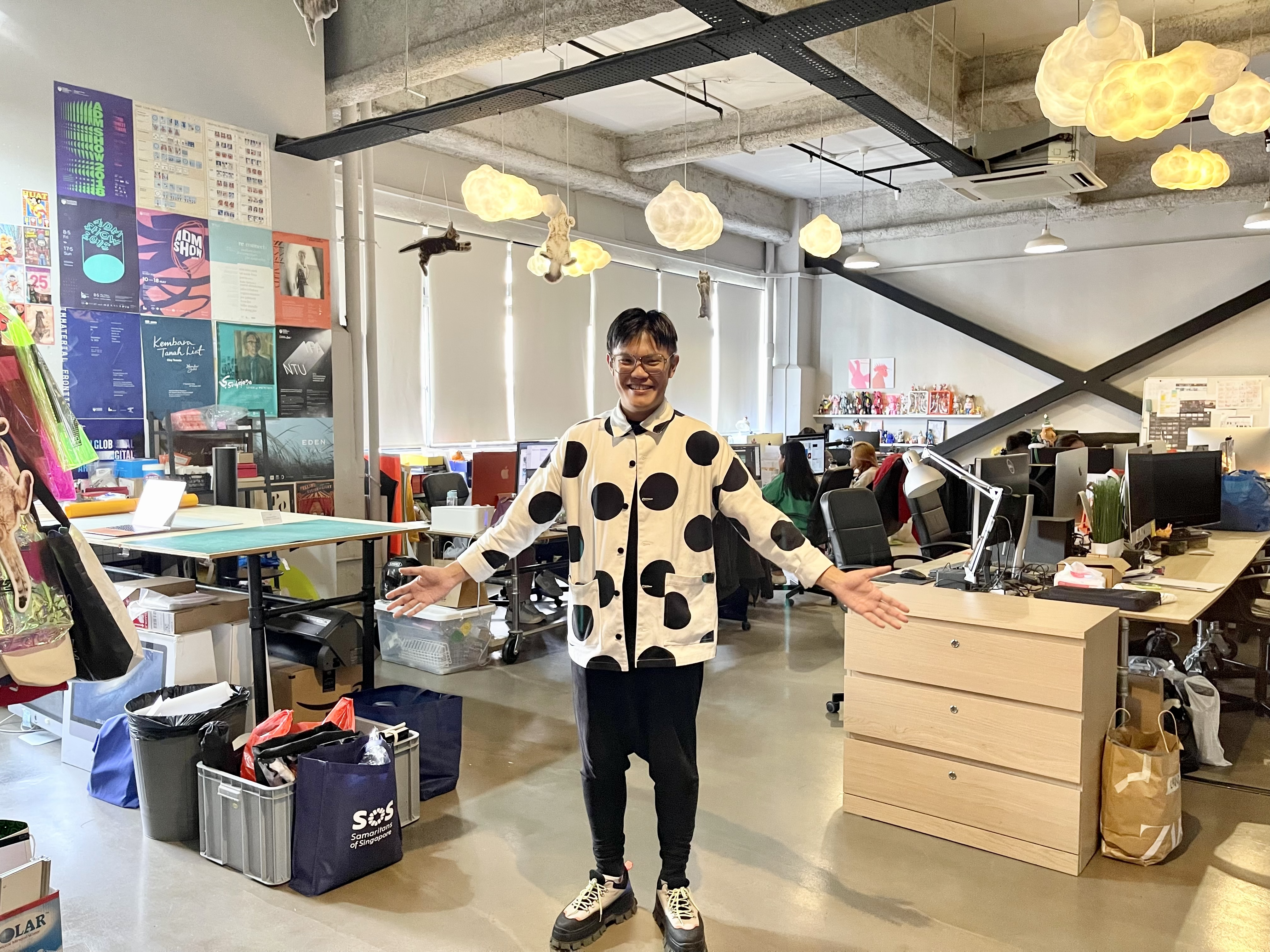 Your preferred mala (spicy stir-fried pot) spiciness level?
Would you try vegetable-flavoured ice cream?
I would. In fact, I recently had burnt artichoke ice cream and I quite liked it because it tasted like bacon. Though I did try wasabi ice cream once and it's safe to say that I'm never trying it again because every mouthful was painful. Perhaps the next vegetable-flavoured ice cream I might try is coriander.
The last thing that you learnt?
Thoughts on AI-created art?
I personally don't reject it but it seems like the hype is a passing phase, though it is difficult to say whether it will stay for long or not. It actually levels the playing field for a lot of artists — those who have spent decades perfecting their craft and amateurs. However, I believe that those original and authentic artists will be able to find ingenious ways to better AI because sometimes it is with human variance that mistakes become art and are beautiful.
The Suite Spot is Socium's series of interviews that look into the minds of C-suites. What drives their business strategies and their decision-making process?  What role does communications take in their plans and what is their impact on the organisation's success? Last but not least, how do these leaders walk the talk?

Find out more in conversation with C-suites with Socium's Suite Spot.