Summary. Kenneth Chia, Founder and Lead Copywriter of Pencil Sword, tells us how he transformed his passion for copywriting into a lifelong career.
Kenneth Chia is the Founder and Lead Copywriter of Pencil Sword, and Content Strategy Consultant at Socium Consultancy . After graduating from Nanyang Technological University (NTU) with a Bachelor's degree in Mass Communication, Kenneth has accumulated more than a decade of experience in copywriting and marketing. He has come to helm Pencil Sword, a marketing agency that has worked for the likes of AirAsia, Mercedes-Benz and Guiness.
How has your experience in NTU's Mass Communications course prepared you for your career in copywriting and marketing?

I have always enjoyed the English language, and started writing since young. I wrote my first hundred-page novel in Primary Two. I would say that NTU Communication Studies was a good place for me to hone that set of skills, because I was better at writing than speaking. Going to different classes and learning more about the different aspects of journalism, film and radio was useful. Outside of NTU, I took night classes on top of school, which was where I met various creative writers from different agencies, and got to learn more about copywriting.
Have you always been steadfast in your passion for copywriting? What do you enjoy most about it?
I've always enjoyed writing. I couldn't speak very well when I was young, so that was a big reason why I started to write – to express myself and to connect to people. I'd like to think that I'm one of the few people doing something I really love. I really enjoy writing and  coming up with ideas that can hopefully solve problems for people and brands.
What was the most memorable marketing or copywriting project you have embarked on and why?
There are two. The first one was a pro-bono collaboration my ex-colleagues and I did with an animal shelter and Ikea. Because we were animal lovers, we spoke to an animal shelter to help them get more adoptions for their dogs. We took photos of each dog, printed them out life-sized, and placed them inside Ikea to show customers how these dogs would look like in each room setting. We recorded a video of us doing this and uploaded it onto Youtube. It was memorable because it got 500,000 views, and the project even got featured on CNN. We had dog shelters from Brazil, Japan, the US and other places emailing us asking if they could use the same idea in their own country. It was such a meaningful cause and we were all very happy that this happened.
The other project was a fun one. We had to design a tent for Heineken for ZoukOut, back before Covid-19 restrictions. It was memorable because we were there working through the night, and I got the grand prize of a one night's stay at a suite in W Hotel!
What inspired you to start Pencil Sword?
Aside from all the serendipity and coincidences, it was looking at the philosophy of all the different brands out there. Starting Pencil Sword was a way for me to impart what I had learned from these big agencies, and share them with SMEs or even smaller MNCs. So that became what we do at Pencil Sword: coming up with marketing strategies, creative ideas, and copywriting.
What were some challenges you faced when you first started out with Pencil Sword?
Being a leader, dabbling in HR and finance are definitely not my forte, and as a small team, I have to be the one taking care of all of these things. I'm constantly learning these along the way.
There's also the ongoing challenge of finding the right clients, bringing in the revenue that I think we need and getting the projects we would like to have. At the moment I'm tapping on my previous and current networks to get clients, but I'm always looking to see how I can improve this, be it through advertising or networking.
Having worked in multiple marketing agencies, what kind of company culture have you envisioned for Pencil Sword?
Definitely one that is open and honest – I think that's very important. And with a smaller team, it's much easier to be inclusive and tight-knit. Apart from having open and honest communication and making sure I'm there for everyone in my team, it's also easier to focus on Pencil Sword since I only have one business as of now. I'm quite a casual and fun-loving person, and I think this energy could also benefit the team. At Pencil Sword, I'm always looking to see how we can bond in natural ways – which is why we have Folly Hour, where we set aside one hour to chat about non-work related things, according to themes or just random matters. Most of the team are gamers, and I like board games myself. Since 2019, we've had a board game tournament, and in 2020 when the pandemic hit, we switched it up by playing online games like Skribblio and Code Names. We're continuing this tradition this year. This is how I try to build the company culture in Pencil Sword and make it more interesting for everyone.
What would you say your leadership style is like at Pencil Sword?
If I could put it into two words, it would be empathetic and nurturing. I've not been to any leadership courses, but being the eldest of three sons helped me naturally. To me, being a leader is to be a good human being, and to see everyone in the team as people who would want to grow with me. I wouldn't say that I have strategies or certain approaches when it comes to leading, for me it just comes in a natural, genuine way.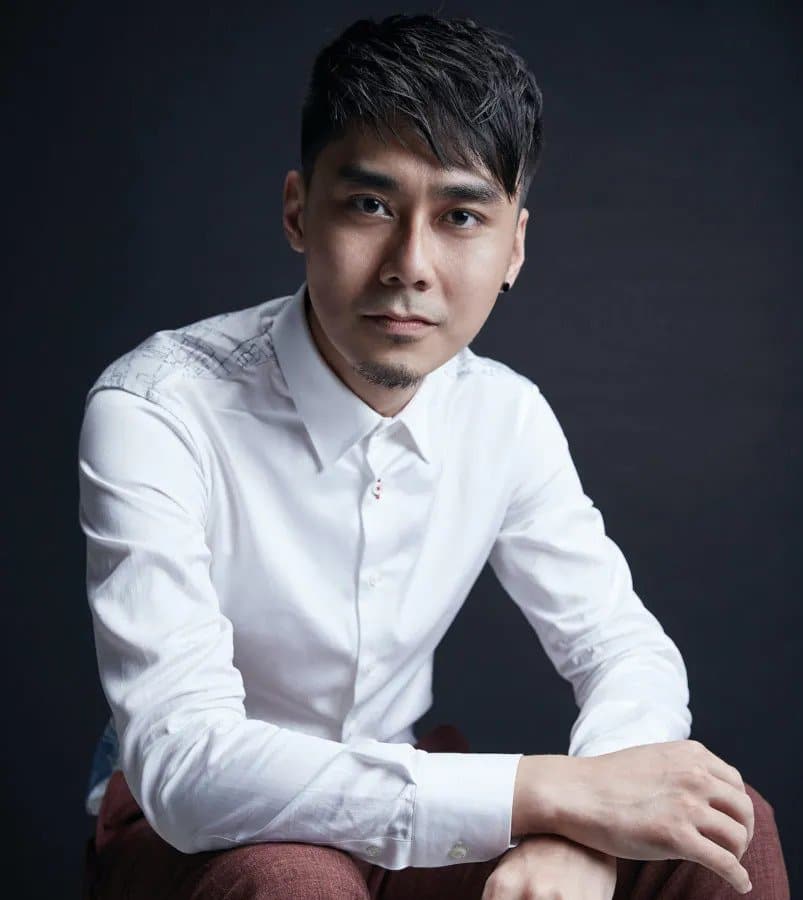 With your vast experiences working with different brands, how would you say the communication and work styles differ from company to company, and how do you resolve these differences?
Different companies have different work styles for sure. Some of the bigger companies, especially those not based in Singapore, have a regional or global presence, and could be a lot more hierarchical. Since there are many layers to go through, working with them requires more stringent processes and a greater urgency when it comes to meeting deadlines. So I would say that being more systematic would enable you to be a better fit for these companies. 
In contrast, in Pencil Sword, there needs to be a lot more one-to-one communication and possibly even during non-working hours as well. But we work around this by establishing good rapport with one another so that we can delegate the work to one another without a single person micro-managing everything.
We were particularly intrigued by this line in your LinkedIn bio: "Kenneth believes that the world needs more ideas - and fewer ads." Could you elaborate on this?
A lot of marketing agencies focus a lot on how they can sell or reach as many people as possible, which I understand is part of the marketing mix. But, I feel that along the way, we might have lost sight of the importance of respecting people's time and producing good products and services they believe in. So, when I say we need more ideas, it's really about talking to clients to figure out what differentiates their brand, product or service from others, what they can value-add to consumers and finding the most interesting way to communicate these key messages.
What do you see for Pencil Sword in the coming two years, or maybe in a decade's time?
I would say that we would definitely still be focusing on strategies and ideation. With these two, it's much easier to get on board any new trends, whether it's Tiktok or the next big thing. I feel that if we can control our strategies and ideas, then technology is just a medium for us to showcase our clients' work to the audiences. It's also about trying to find the right clients who share the same values. Ideally, bigger clients or household brands with the budget for us to work on more impactful and creative projects. Lastly, would be to find the right talents and like-minded folks to join us in pursuing all these goals.
Have you ventured into other areas of interest besides marketing and copywriting, and if not, what do you see yourself exploring in the future?
The idea of understanding vastly different fields, and applying the knowledge gained from these fields. I do hope that we can work closely with technology partners, and maybe someday we might have some form of our own technology, such as getting on board video production.
What is one quote/ advice you live by? Do you have any personal mantras?
I don't have a quote off the top of my head, but I believe in the power of humility. I've always been more introverted and quieter, and humility helps because I tend to listen more and listen better. I understand what people are looking for, whether it's a client, a teammate, a friend or a family member. I take the time to understand and plan out what I want to do next. So I would say, don't underestimate the power of humility. Something I have also learnt from work is to be clear, then creative. It's important to have a clarity of mind about objectives before embellishing an idea with all the creative details.
Is there anything which you have always wanted to do/ experience, but never had the chance to?
If I could choose what I could be in my next life, it would be a dancer. It would be interesting to express myself through my body instead of my words for a change.
What have you read recently that you found interesting?
'Thinking, Fast and Slow' by Daniel Kahneman. It's about how we rely too much on our intuition to make decisions even though it can actually be flawed most of the time. I found it a reminder to myself to be more aware of this, so I can make better decisions.
Do you have a role model? If yes, what is it about this person that inspired you?
On a personal level, I would say that my father is a good role model to me. He's someone who has been learning all his life. He was an engineer, but picked up many different things along the way as well, such as religion and politics. Even now, my father is taking up the Thai and Japanese languages on his own. I find myself constantly impressed by his determination to keep learning.
On an external level, I would say that Mark Rober is also a good role model. He's an ex-NASA scientist who finds new, interesting ways to do meaningful things, which really appeals to me.
Work can be pretty hectic at times, and especially when you are in a managerial position. How do you effectively balance work and personal life?
These days, I try to start work two to four hours earlier than my team, so that I can focus solely on my most difficult work at hand. It gets difficult at times, but my wife has been doing a great job of getting me to make a clear division between work and after-work hours. After 7pm, it's family time. Of course, work sometimes creeps in and I'll have to do a bit of work in the evenings or the weekends, but I manage. Also, it helps that there are platforms like Slack which makes it easier to separate my work life from my personal one.
The Suite Spot is Socium's series of interviews that look into the minds of C-suites. What drives their business strategies and their decision-making process?  What role does communications take in their plans and what is their impact on the organisation's success? Last but not least, how do these leaders walk the talk?

Find out more in conversation with C-suites with Socium's Suite Spot.