Summary. What is communication and why is it so important to ensure you communicate effectively? This article takes a closer look.
It is almost impossible to dispute the impact communication has on an organisation's image and how it is perceived. An organisation's communication can be seen from two fronts: internal and external communication. Research has shown that companies with effective communication harnesses greater business development, while miscommunication can cost an organisation US$5,200 annually per employee, according to Skip Weisman, president of communication consultancy firm Weisman Success Resources Inc. For companies with 100 employees, the estimated annual cost is $520,000; for companies with 100,000 employees, that number rises to $520 million. In a 2019 survey of 1,001 employees in the United States by Dynamic Signal, it was found that 90 percent of the employees believed that good communication was key to a positive workplace environment and 80 percent of respondents experienced stress as a result of ineffective company communication. More importantly, more than half of the respondents said poor communication led to poor financial outcomes. 
Evidently, the cost of "poor communication" has become one of the most imperative and strongest business rationale for companies to focus on building up and ensuring good communication practices. Communication is the new form of business currency.
What is Effective Communication?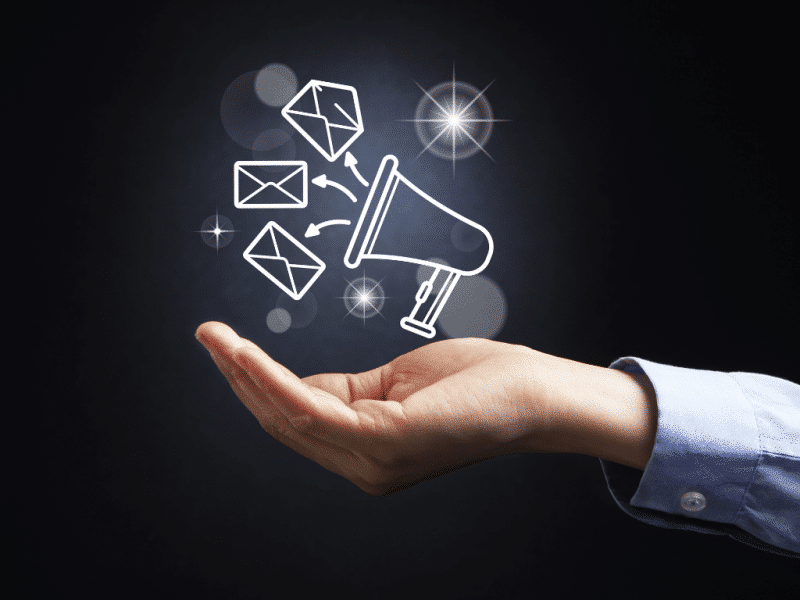 There are many different elements to consider in communication, including Sender, Message, Channel, Receiver, and Context. 
Sender – To be an effective communicator, it is important for the sender to establish the knowledge, audience and context in which the message is delivered. Failure to understand or correctly identify the target audience and context may result in delivering messages that could largely be misunderstood. 
Message – The Message encompasses both intellectual and emotional components, and whether it is communicated in speech, writing or other non-verbal forms, the sender's tone, method of organisation and articulation of arguments inevitably impacts how the content is communicated to the receiver and how the receiver will interpret it. Clear, concise and accurate information embedded in the message greatly helps in the smooth delivery of the ideas and thoughts. 
Channel – Different communication mediums can create different impacts on the message itself and the receiver, and it  is sometimes affected by the richness of information the channel can contain. Information richness refers to the amount of sensory input available during a communication. Studies have shown that verbal communication (especially those that include face-to-face interactions) are of high information richness, while in some contexts, formal written documents with relatively rigid and standardised formats may sometimes compromise on nuances. In that sense, verbal communication is effective in expressing feelings, while written communication does a better job at conveying facts. The key to effective communication is to match the communication channel with the goal of the message.
Receiver – How the receiver perceives the message will determine the effectiveness of the communicated message. It is important to bear in mind that communication is a two-way process; paying attention to the feedback from the receiver is crucial to ensuring that the intended audience has correctly understood the conveyed message. In some communication contexts, situational awareness and observations of the receiver's reactions are critical in effective communication. 
Context – The situation in which your message is delivered is the context. The context and message will collectively ensure that the intended message is brought across to the receiver and interpreted correctly with a certain degree of consensus. The context of the message will also set the tone in which the message is conveyed to the other party. 
All these elements come together to formulate clear messages, which should be clearly articulated, when expressing ideas and sharing information with the intended audience.
Incentives of Effective Communication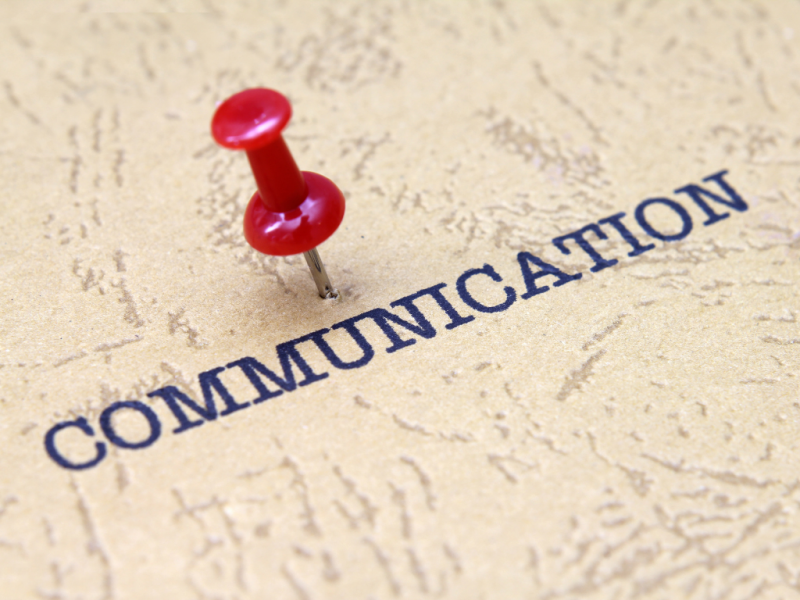 Many companies often invest heavily on strategies, marketing, branding etc, but few have thought of allocating financial resources into "communications", which is essentially, the core activity of work. Some may argue that improving communications does not translate into business growth and sales and there is no way to measure it. However, research from British multinational risk management company Towers Watson found two key reasons for businesses to invest in communication: one, businesses with highly effective communicators have a 47 percent higher total return to shareholders compared to companies with the least effective communicators; and two, businesses with strong communication practices are 3.5 times more likely to significantly outperform industry peers than businesses with less effective practices. 
In attempting to justify the role communication plays in the achievement of strategic goals of organisation, Nwachukwu (1999) identifies four major functions of communication in business management in his book Management: Theory and Practice: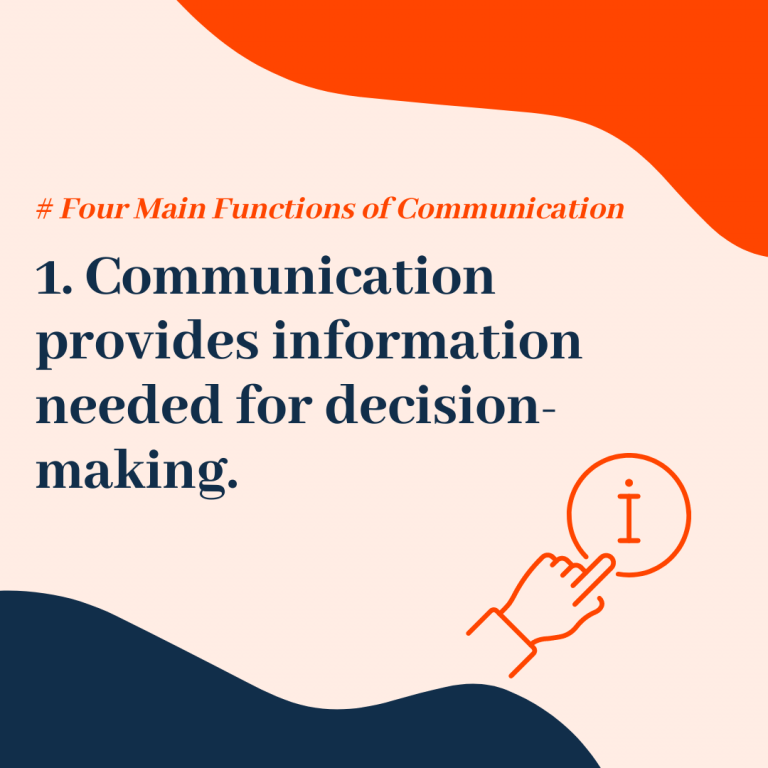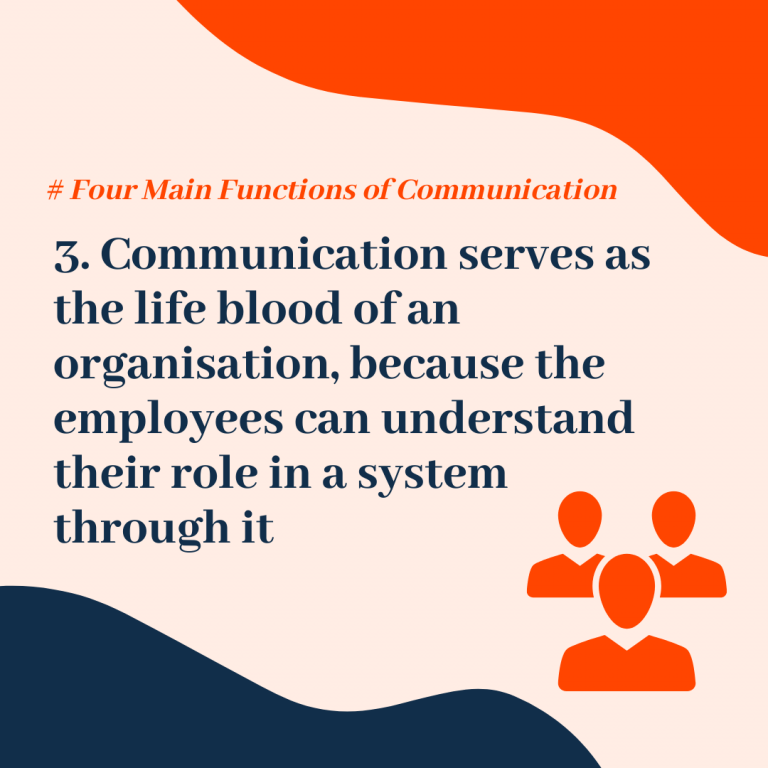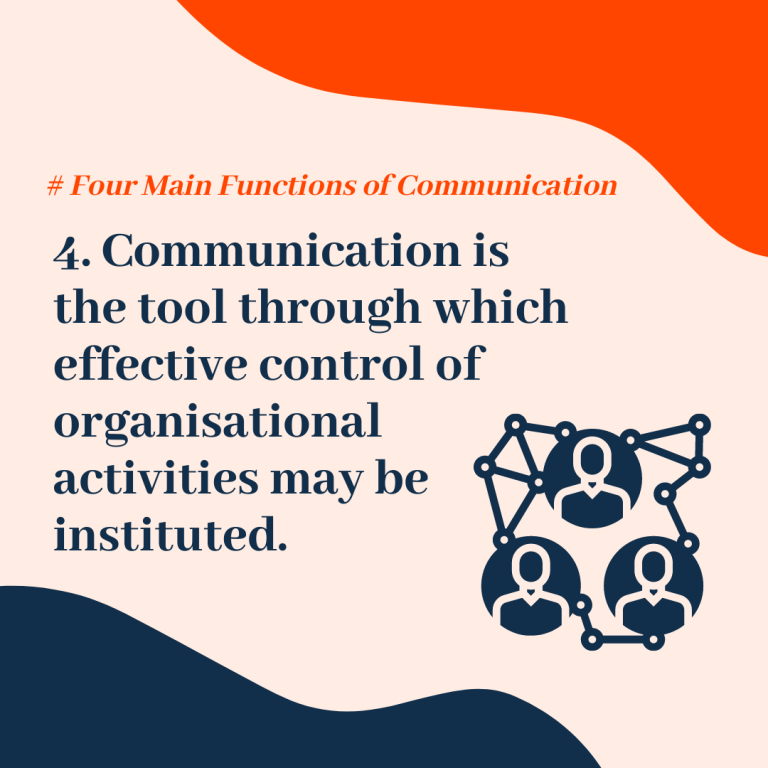 In any organisational activity and operation, effective communication is an indispensable instrument. It strengthens the connections between a company and all of its stakeholders by minimising potential conflicts, misconceptions and misunderstandings. From the view of external communications, this allows the company to build stronger business relationships and implement clearer and more persuasive marketing messages. Good communication is also an essential tool in achieving productivity and maintaining strong working relationships at all levels of an organisation – and this has been particularly observed when the Covid-19 outbreak forced many people to work remotely. Communication builds trust. When both employers and employees start to invest time and energy into establishing clear communication, it helps to build up the morale and productivity of the team and increase employee satisfaction, as supported in a study published in The Economist, Communication barriers in the modern workplace. 
Cost of Poor Communication
Dean Brenner, an expert in persuasive communication, president and founder of The Latimer Group, wrote The True Cost Of Poor Communication (Forbes) that it is important to not just recognise the merits of good communication, but also to be aware of how poor communication will incur loss of credibility, which in turn adds up to be a hefty cost. If the benefits of effective communication are still not enough to convince you about its importance, many studies with real-life examples have proven this. For instance, the "Comma Quirk" in the Rogers Contract that cost Rogers Communications Inc US$2.13 million; the spelling error of Taylor & Sons Ltd's company name which cost the Companies House £8.8 million, Tufte's misleading presentation that in part contributed to the Columbia Space Shuttle disaster; and the miscommunication between project managers and engineers, which resulted in the deadly Hyatt Regency walkway collapse. These are but just a few examples of communication disasters, but are representative enough to show the criticality and value of effective communication. 
The tree swing analogy, first introduced in the 1970s, is  on point depicting the difference in how each department interprets and implements a requirement in the development of a certain project, and in a broader sense, this is a clear representation of an outcome of miscommunication.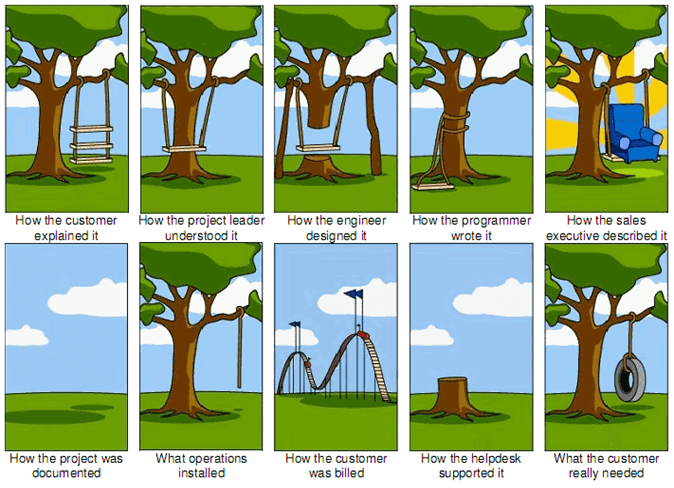 Communication as the New Form of Currency
Against this backdrop, communication and an organisation's business development and success are inseparable. Communication is an indispensable developmental tool for organisations. It permeates every facet of the organisation and every individual – entry level, management and executive leadership – needs to recognise, be aware of common communication pitfalls and take steps to improve their business communication skills. As more companies  plan their budget for Learning & Development (L&D), as highlighted in the 2020 LinkedIn Learning Report, it is time for companies to pay attention to investing in communications – the new currency that will improve a company's efficiency, quality, responsiveness and innovation, which will translate into better financial results and higher returns for investors in upcoming projects, and in the long run.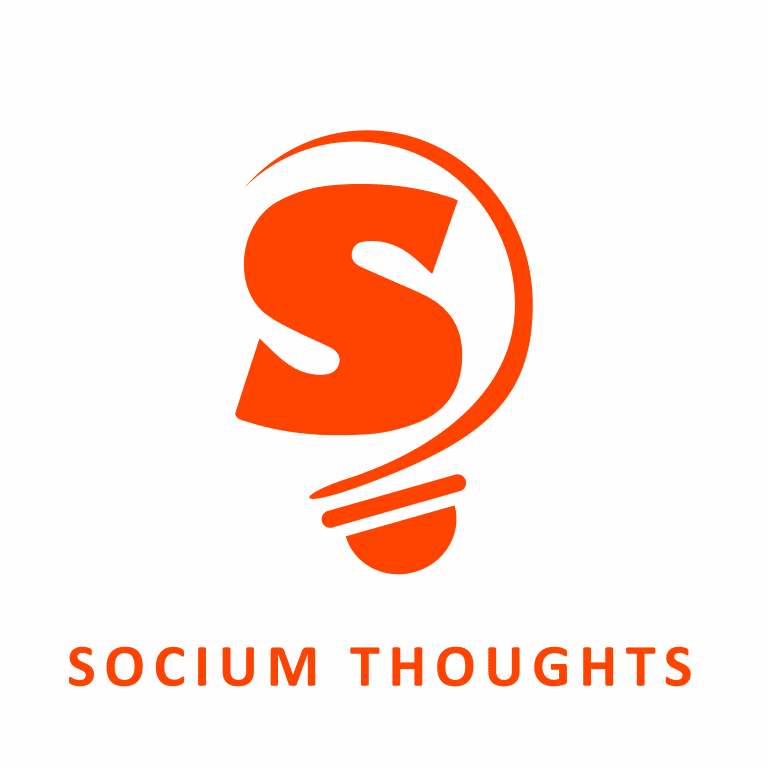 Because it's the thought that counts – Socium Thoughts bring together our thoughts and opinions on all things communication.